It's A Puzzle
It's 6 am on a workday and I was done sleeping.  Usually I don't get up until 7 but something was on my mind.  It was the moon shape of Babe Ruth's head.  You might think that is a crazy thought but it was part of the puzzle I was helping to put together.  Normally I leave the puzzles to my wife.  Every now and then I will attempt one and become frustrated when I sit there for 5 minutes without successfully putting together a piece or two.  This puzzle was different.  It was about sports legends from museums in North America.  In other words it was a subject I knew plenty about!
This puzzle was 1000 pieces and like all of them there was a picture of the finished product on the box.  Coming home from work on my lunch hour I found myself sitting down at the table and attempting to put a few more pieces together.  The same thing happened after work.  Instead of becoming frustrated because of my lack of success I became addicted because of my surprising proficiency!  I found that it was relaxing as it took my mind off of everyday things and put it on the task at hand.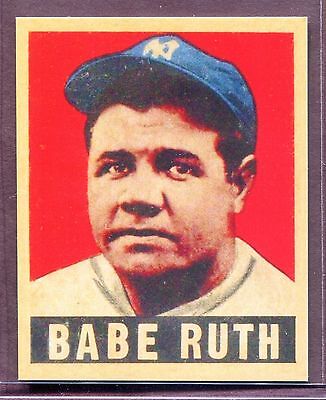 As I was laying there before I got up I had this thought.  Why don't I work on the Babe Ruth part of the puzzle?  After all there was nobody who had a head exactly like the Babe.  I once heard someone describe it as looking like a happy catchers mitt.  On the box picture he was looking up following the journey of the ball he had just crushed.  Who would have thought that years ago this would be the man who saved baseball?  At the age of 7 his parents placed him in a home for incorrigible boys.  They decided that his actions were so bad they couldn't raise him.  It was called St. Mary's Industrial School and was a training school for orphans, incorrigibles, delinquents, boys whose homes had been broken by divorce, runaways picked up on the streets of Baltimore and children of poor parents who had no other means of providing an education for them. He was being trained to be a shirt maker and tailor.
From the day he was admitted at age 7 until the age of 19 he was in and out of that school.  It looked like his future would be as a tailor until fate took over.  Little did he know that the puzzle to his life was coming together.  You see George (his real name), had a proficiency for hitting a baseball.  It was discovered and nurtured by a big strapping administrator of the school named Brother Mathias.  Brother Mathias was 6 feet 6 inches tall and took a liking to George.  The school had different teams and at a young age George was allowed to play on the best one.  He was a pitcher back then and became known as the best pitcher in the school!  Jack Dunn the owner of the Baltimore Orioles who at that time was a minor league team came to the school and signed George to a contract.  He had to agree to be his legal guardian to make the deal happen which he did.  Teammates would see Dunn coming with George by his side and would say "here comes Dunn with his babe!".  The nickname stuck and he became Babe Ruth.  After 5 years of pitching and getting traded to the major league Boston Red Sox it was decided that Babe was too good of a hitter to only play one in every 4 or 5 games.  They made him into an outfielder so he could play every day.  The Red Sox owner Harry Frazee needed money to fund one of his plays (he also owned a local theater) so he sold Babe to the New York Yankees for $125,000.
Baseball had a very serious problem when Babe was traded to the Yankees.  In the 1919 World Series between the Chicago White Sox and Cincinnati Reds it was discovered that the White Sox had sold out to gamblers.  Eight of them agreed to lose the series for an agreed upon sum of money.  When this unthinkable deed was brought to light baseball was looked on as crooked.  One of the big reasons people became interested again was the many home runs that Babe Ruth was hitting.  His go for broke swings started a new trend in the game.  Instead of bunting and playing base to base players started playing for the big inning and swinging for the fences.  Baseball became respectable again and a big reason was Babe Ruth!
In the pile of puzzle pieces I saw his moon face.  It couldn't have been none other.  Suddenly I was finding his gray uniform in the mix of pieces.  I found I enjoyed working on a single subject and working with colors.  My son is really good with shapes.  He amazes me how he can sit down and put 4 or 5 pieces in based on their shapes.  He has a knack for seeing a shape and matching it quickly within the pile of puzzle pieces.  I do not have that talent.  My best attribute for putting this particular puzzle together was my knowledge of the subject.  Some of the outlying pieces had little facts about the athletes.  For instance Jessie Owens 1936 Olympics, or Mark Spitz 7 Gold Medals, or Ted Williams a .406 average.  All of these little facts helped me know the area that the pieces went in without really being very good at putting puzzles together in general.
After working on the puzzle for awhile I'd find that I would go into a slump.  In other words I'd sit there getting frustrated because the pieces were not going together.  It was at those times I would get up and get my mind on something else.  Sometimes we can dwell on the situation so much that we get bogged down.  It is good in those situations to just step away.  That happens at work sometimes at the end of the day.  There are times when by 5 pm  things seem like a scrambled mess, but a good nights sleep and a new day brings clarity to the situation.
After I walked away from the puzzle my wife kept working.  A few minutes later she called for me to finish the puzzle.  She had graciously left 7 or 8 pieces out for me to complete the puzzle.  It took a little trial and error but I was able to fit the pieces together and all of them were there.
Now I could see the completed puzzle picture.  There were many figures representing numerous stories similar to the Babe Ruth story I mentioned.  From Joe Louis, the great boxer to Red Grange, the galloping ghost of football, to John Wooden, who guided UCLA to 10 NCAA basketball titles, and so many other incredible stories!   The fun part about piecing this puzzle together for me was the memories each little figure represented.  I remember so many of these people and observed many as they were accomplishing the feats that would make them famous.
God has a puzzle of all of our lives too.  It isn't a puzzle that he is figuring out however.  It is a faith puzzle that comes together when we trust him with it.  It's easy to get frustrated when our pieces don't seem to fit together.  Sometimes we try to force pieces that don't fit only to discover that this conduct directly affects other pieces.  While things don't always go together like we think they should, have faith that all of the puzzle is there!  Instead of being frustrated we need to just step away and leave it with God.  When our puzzle is all together we will marvel at how all of the pieces fit perfectly and how each trial on the trail helped to make our puzzle complete!