Roll Away The Stone
He has risen!  It is the story of our faith.  Without the fact that Jesus has risen from the dead our faith would be dead too.  Mary Magdalene went to the tomb and discovered that the Stone had been rolled away.  It was a massive stone that had been put in front of the opening to make sure Jesus' body was not stolen.  So Mary goes into the tomb only to find that Jesus is not there.  She runs to John and Peter two of Jesus disciples with the sad news.  "They have taken our Lord and I don't know where they put him."  The two disciples run to the tomb only to find that Mary was right.  The stone is rolled away and Jesus' body is gone.  Not knowing what to do next the disciples end up going back home.  Mary is standing outside the tomb crying.  As she wept she looked into the tomb and saw two angels dressed in white seated where Jesus' body had been.  They asked her why she was crying?  "They have taken my Lord and I don't know what they did with him", she stated.  Suddenly Jesus appeared but Mary did not recognize him.  Thinking he was the gardener she said "sir, If you have carried him away tell me where you have taken him and I will go get him".  Jesus said "Mary" and Mary realized that it was Jesus and he was alive.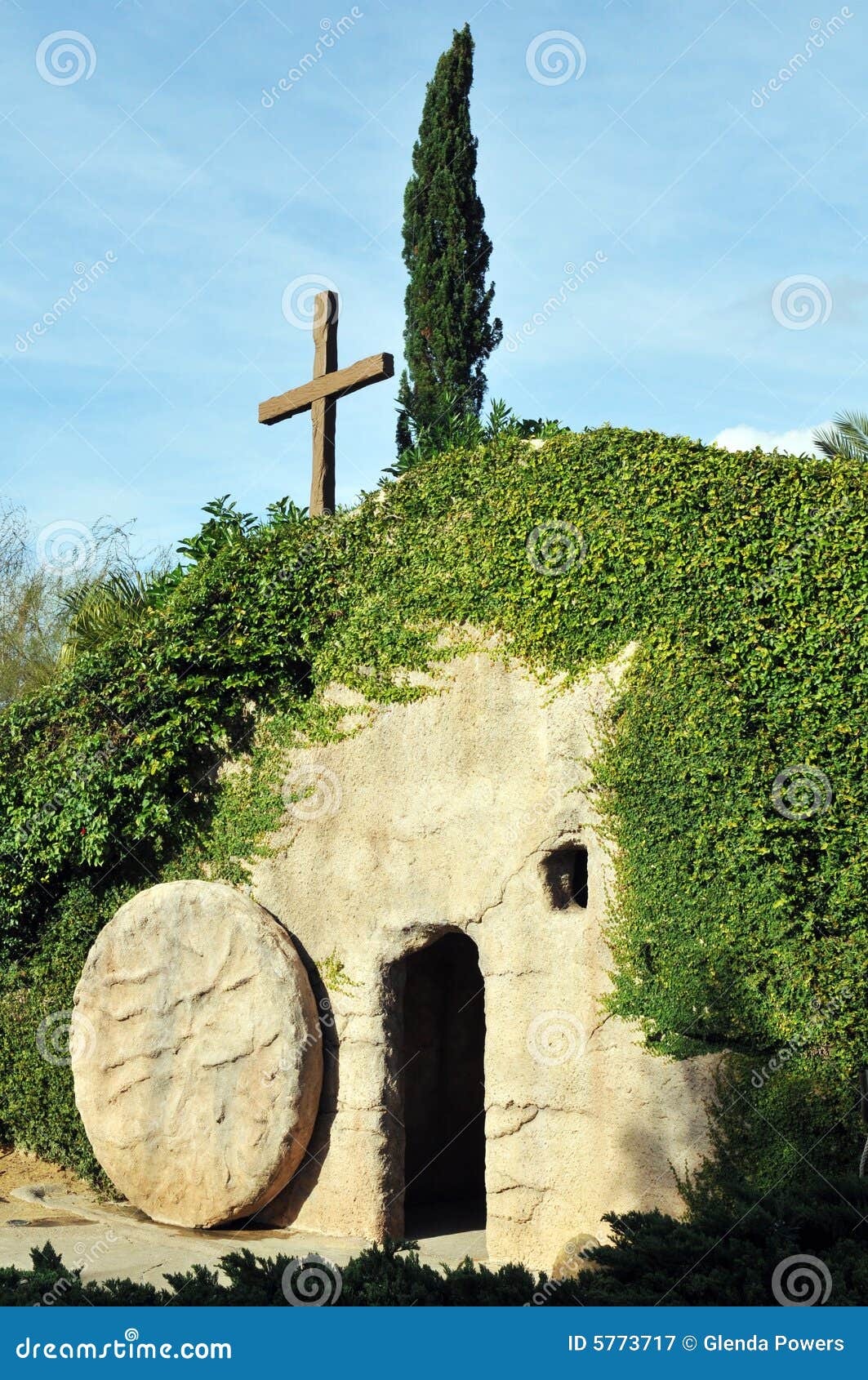 Like the stone blocking the tomb there is another story years before of how God symbolically used stones to give Moses a lesson for his people.  Moses was leading the Israelites out of Egypt and had just crossed the Red Sea that God had parted for them.  That was the miracle where he made the sea part for them to get through but roll back to swallow up their enemies that were after them.  Going through the desert they came to Mount Sinai. God called Moses to the top of the mountain so they could talk.  The rest of the people were to stay down below and clean themselves up to prepare for when Moses came back with instructions from God.  Moses went up to the top of the mountain to meet God.  He stayed for 40 days and nights.  God wrote in his own writing the 10 commandments and put them on two tablets of stone.  When Moses came down from the mountain with the two stones in his arms he noticed that the people had grown impatient and had made an altar with a brass calf.  Moses was so upset that he threw the tablets to the ground breaking them in hundreds of pieces.  God ended up having Moses chisel two more rocks down to tablet size and gave him the ten commandments again to write on them.  The commandments were never symbolized as a way to salvation.  They were given because God loved them and gave them rules to follow that would be best for them.  It's like loving parents telling their children to get home by 11 or don't eat all of that junk food.
How many times do you tell your kids not to do something only to find that they disobey?  How many times in the spur of the moment do we make the wrong choice and for that moment we don't consider the rules.  My dad used to tell me a story about a day that he was driving and came to a yellow light.  It was one of those lights where it was a 50-50 as to if he should go through or stop.  He decided to go through.  Just after he went through the light there were blinding lights in his rear view mirror.  He was getting pulled over.  When he mentioned to the officer that the light was yellow the officer told him that while he was under it the light turned red.  It was the letter of the law and the officer was determined to enforce it.  That ticket greatly affected my dad's view of traffic lights from that time forward.  If he were driving up to a light and the light turned yellow you could bet your life his car was stopping.  Sometimes he stopped that car so suddenly it almost threw me on the floor.  This was before the time when we all wore seat belts.  One time dad made one of his stops and the car behind him rear ended his car in the back.  The driver mentioned that he thought dad was going through.
A friend mentioned the other day of an episode with his dad.  His dad was driving with the family along narrow winding roads in the mountains of Tennessee or Kentucky.  As he was winding down the mountain he noticed the blinding lights of a police car in his rear view mirror.  The officer asked "Do you know how fast you were going?"  Truthfully the father did not know.  The officer had pulled him over in a loving way reminding him of how dangerous it is driving down the mountain.  "We have had many cars not make a turn and I just wanted to make sure you were not one of them."  That story stayed with my friend all of these years.  The officer in his memory pulled them over because he cared about them.  He did not recite the letter of the law to them.  He did not give his father a ticket.  He just wanted to warn them to slow up and be safe.
Almost invariably with rules there are exceptions to the rule.  If you are racing to get someone to the hospital in an emergency you might run a red light or two.  Is this lawful?  No, but it might be practical because you are doing it in love.  Even though God gave the ten commandments out of love he knew that they would be broken.  Symbolically when Moses became upset and broke the 10 commandment tablets it was like the ten commandments would be broken too.  There is a difference however in breaking a rule in love and in hate.  One day Jesus came by a pool where an invalid man had been laying on his bed by it for 38 years.  (You can find this story in the Gospel of John chapter 5 verses 5-15.)  Jesus asked the man if he wanted to be made well.  The man answered saying "I have no one to put me in the pool."  You see an angel had stirred the pool waters and anyone entering the pool would be healed.  As you can imagine there was always a stampede to get into the water.  The man however had no means to get in.  Jesus did not say "Here let me help you into the pool."  Jesus knew the real source for healing.  What he did do was command the man to take up his bed and walk!  The man on command took up his bed and started walking.  I can imagine the excitement that came into his life and the amazement others around him were feeling.  They had seen this man laying there by the pool for years and now he was carrying his bed and walking.  After he advanced for awhile with his bed on his back the religious lawyers called Pharisees stopped him.  It happened to be the Sabbath day and they told him it was unlawful to carry his bed on the Sabbath.
n 2013 in the United States alone 2,220,300 adults were in federal, state, or county jails.  That is almost 1% of the adult population.  Those people are in physical bondage as they are locked up with no place to go.  We can find statistics on the number of these people there are but nobody knows the statistic on how many people are in spiritual bondage.  I can only tell you that the number is in the millions.  The spiritual bondage comes from people trying to live by the rules.  You might say "Shouldn't we live by the rules and isn't it a good thing?"  The answer is yes but we have to realize that if our heart is in the right place the rules will take care of themselves.  When the religious rulers asked Jesus what the greatest commandment was he answered this way…37 Jesus replied: "'Love the Lord your God with all your heart and with all your soul and with all your mind.'[a] 38 This is the first and greatest commandment. 39 And the second is like it: 'Love your neighbor as yourself.'[b] 40 All the Law and the Prophets hang on these two commandments."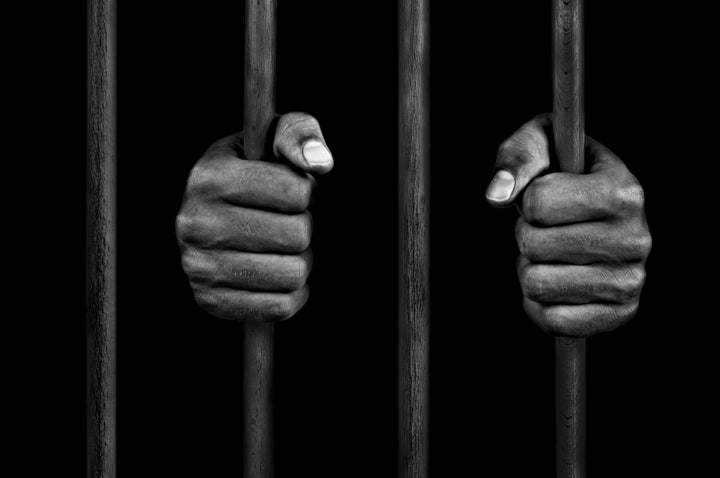 So my questions to you today are Do you live your life in love?   Are you concerned with others obeying the rules and holding them accountable when they don't?  Are you willing to forgive and forget or do you hold grudges? How is playing by the rules affecting your life?  Has religion made you miserable?  Are you trying to please God because you fear him or because you love him?  Do you go to church in fear or in love?
When the stone was rolled away from Jesus' tomb it was a sign of hope!  It was a sign that something supernatural had happened!  When we give our life to Christ something supernatural happens to us too!  No longer are we living in bondage blocked by doubt and fear with no hope.  Now instead of depending on religious rules to justify us we have a loving heart and the voice of the Holy Spirit telling us we are saved.  Our life that was once a dark tomb blocked by a large stone is now an unblocked lighted vessel for his use. Let God roll that stone that is blocking your way and let him empower you to change the world!  Go in love and peace and let his love freely shine for all to see!