This Is A Test
This is a test. How many times have we heard these words in our lifetime?  Usually it comes from that crazy radio message stating "this is a test of the emergency broadcasting system, this is only a test".  It is followed with a siren sound for ten seconds.  Then the voice comes back and tells us what to do if this were a real emergency.  It is kind of like the fire drill tests we got so accustomed to in our grade school.  Line up single file we were told as the alarm loudly went off.  Then we calmly marched out one of the exit doors and ended up on the playground far away from the school.
I have this recurring dream.  It is a dream that I am back in college and there is a class that somehow I have just discovered that I have.  I have missed the whole semester and now they are having a test on the day I walk into the room.  I am not prepared and fear starts to set in.  The nightmare continues as the professor hands out the test and I am totally stumped as I sit there in a cold sweat.  Needless to say this recurring dream is not fun and it seems to play into a fear within me of not being ready for a test.
As a student I recall many times the teacher would surprise the class with a pop quiz.  It was bad enough to get tested when you were given warning, but these pop quizzes seemed to be totally unfair.  Looking back I'm sure that there was a reason for these surprise quizzes.  Perhaps the teacher wanted to find out how many of their students were following the lessons.  How many were comprehending what was being said and were able to apply the lessons to their knowledge?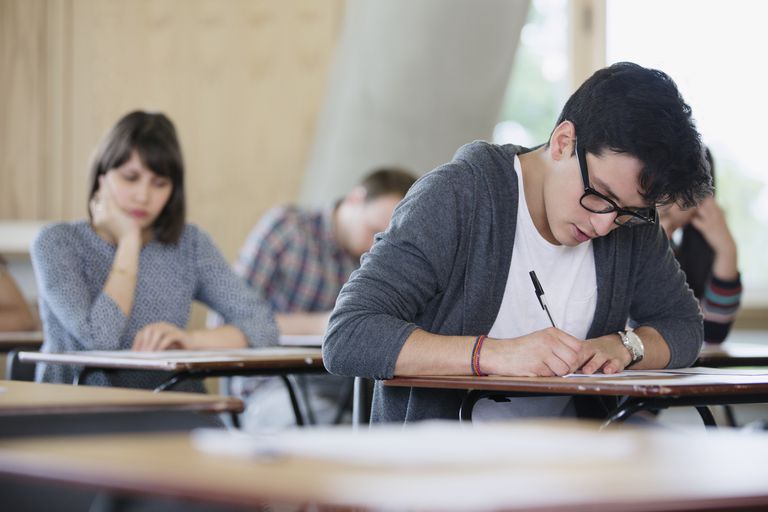 Looking back on those school day tests today I can see their value.  There has to be a time when the rubber hits the road.  There has to be a time when the teacher grades their students on what they have learned.  Being there and listening to the messages aren't enough.  Maybe I was there in body but my mind was on the ball game we were going to organize after school.  Maybe my mind was on a million other things besides the subject at hand.  I may look like I was there all of the time but my test scores could tell another story.
In our Christian walk some people expect life to go smooth all of the time.  They might think that when we become Christians we won't have anymore problems.  Like the teacher, God lets us go through tests.  We may be on the proverbial mountain at times but we also find ourselves in the low valley.  The valley is meant to be a temporary place that God lets us enter. When we find ourselves in the valley we sometimes go on an emotional roller coaster.  Why am I in this place?, we might ask.  It's easy to get down and depressed.  This is not the will of God for us.  He wants us to be content wherever we are.  He wants us to grow while we are in the valley.  Have you ever noticed that mountain tops have no growth?  Down in the valley is where we find the healthy grass and beautiful flowers.
Life will take us to both mountain tops and low valleys. The test is in both instances.  How do we give glory to God when we are on an emotional high?  What is our attitude when we are in the valley?   Like the radio warning "this is only a test."  When we are content and happy in whatever situation we are in it makes God happy.  It is not true that circumstances can totally make us happy.  We have seen miserable lottery winners and famous people that kill themselves.  The happiest that you and I will ever be is not based on outside circumstances but who is on the inside.
One time Jesus was on a boat with his disciple's but he was peacefully sleeping in the back.  A storm came up suddenly and the boat rocked.  The disciple's got scared and feared that they were going to die.  They woke Jesus and said Teacher don't you care if we die?  Jesus stood up and rebuked the storm.  "Quiet be still", he said and the storm subsided.  The disciples failed this test but the message is clear for us today.  When we have Jesus with us there is no need to be afraid no matter what situation we are in.  God loves us and like he calmed the storm he will calm the storm inside us when we put all of our trust in him.  Remember this is only a test!
by Lewis Hamilton
from the book "The Gardener and My Garden" c1997
Just like I need a physical
to find out how I am
It's time for me to ask my Lord
for a spiritual exam
He'll ask me many questions
Can I be honest with myself?
Thinking that I've got it made
could be harmful to my health
Is my gear shifted into drive
or is it stuck in park?
Does my light shine on others
or do I leave them in the dark?
Is my salt being poured out
or is it all for waste?
Does it flavor when it's poured
or has it lost its taste?
When he gives me the vision
to see how I can be
will I make excuses
or let the Lord use me?
Will my spirit be broken
so my life he then can mold?
Or have I pushed the button
to put the Lord on hold?
When I leave the great physician's room
will I be better than I came?
Or have I made my mind up
to keep my life the same?
"…I desire to do your will, O my God,
your law is within my heart."
Psalm 40:8
The Proving Of My Faith
by Lewis Hamilton
From the book "The Gardener and My Garden" c1997
It's easy to praise the Lord
when I'm on a mountain high
or I'm soaring in the air
up where the eagles fly

It's easy to praise him
when life is going right
and it doesn't seem the devil
is putting up a fight
But what will I do when troubles come
and I'm not feeling the power?
Will I cling to my faith in him
when I'm in my trying hour?
When I reach my lowest depth
will I take time to pray
or will I lose my grip on faith
and let it slip away?
Unproven faith is not faith at all,
this truth of faith I've found
The proving of my faith comes only
when I'm on my lowest ground.
Therefore, among God's churches we
boast about your perseverance and
faith in all the persecutions and trials
you are enduring.
II Thessalonians 1:4