An Audience Of One
When Carson Wentz star quarterback for the Philadelphia Eagles came into the league he wanted to start a Foundation.  His agent and others advising him advised against it.  "Most players coming into the league wait four or five years to do that", they told him.  Carson didn't want to wait.  Then again he wasn't like most guys coming into the league because he thought quite differently than the average 24 year old.  He considered their advice but then a thought entered his mind.  I have no idea where I will be in four or five years.  Hopefully I will still be playing this game but nothing is for certain and it is no given I will be in Philadelphia still.  He wanted to make a difference in the lives of people and so a simple question popped into his mind "Why wait?"
Carson Wentz starts AO1 Foundation to help the less fortunate
The Carson Wentz AO1 Foundation
was launched in 2017 and its mission is to "demonstrate the love of God by providing opportunities and support for the less fortunate and those in need."
Carson's Foundation has three major objectives. To provide shelter, food and education for underprivileged youth; to provide hunting opportunities for disabled people; and to provide service dogs to those who need them  So where does this drive in a man so young to help people in need come from?  Maybe part of the answer can be found in his AO1 Foundation mission statement.  "To demonstrate the love of God by providing opportunities and support for the less fortunate and those in need.  In that statement we see "the love of God" and therein lies the drive in Carson's life.  That and a tattoo that he has on his wrist "AO1" which stands for "Living for an audience of one, Jesus Christ."
Wentz found the Lord while in college at North Dakota State. He went to church weekly growing up but it wasn't for spirituality as much as it was for his family.  It was something that he thought was a good thing and went without a deep commitment.  In college all of that changed.  He joined a prayer group with some of his teammates.  Again it seemed like the right thing to do as he built relationships with guys on the team.  As a freshman he was approached by the senior quarterback on the team named Dante Perez.  As they were stretching during a practice Dante asked him if he ever reads the Bible?  Wentz first thought was that the guy was bringing his religion to the wrong place.  After all we were at football practice not church.  Then they ended up meeting and Dante mentored Carson in his faith for about a year.
"I remember just having some college mentors, some former teammates kind of just help walking me through the Word," he added. "And I ended up reading the whole New Testament of the Bible in the first three months of my freshman semester, and it just became real to me."
 That realness grew the remaining years of his college experience.  At the time of the 2016 NFL Draft Carson was rated as one of the top Quarterbacks coming out.  But something far deeper was on his mind.  I just remember praying almost every day. 'Lord I don't know where I'm going to be, but just put me in a place where I can grow closer to you.' He came through big time," Wentz said.  As the number 2 pick in the NFL Draft Carson was off to Philadelphia where he found the perfect fit!
In his rookie year Carson was named the starting Quarterback when Sam Bradford was unexpectedly traded to the Vikings.  The team originally planned to have Carson sit and learn his first year.  Obviously his practices changed plans as the Eagles traded their starting quarterback and named Wentz their quarterback for 2016.  Wentz did not disappoint.  He became the first rookie quarterback since 1970 to win his first two games of the season and not throw an interception. Carson started all 16 games and the Eagles finished with a 7–9 record.  He threw for a league-record 379 completions by a rookie. His 379 completions also set a single season franchise record.  The Eagles were very happy with their first year quarterback and the future looked bright!  But nobody could have predicted how unbelievable the 2017 season would be!
In the first 5 games of 2017 Wentz threw for 1,362 yards and 10 touchdowns against only 3 interceptions.  NFL insiders and reporters mentioned him as a Most Valuable Player candidate.  Week after week Wentz led the Eagles.  They didn't win every game but they were winning most of them.  The Eagles fans had been waiting for years for a quarterback that could lead them to a Super Bowl win.  Since their last championship in 1960  several had taken them to the cusp only to disappoint in the end.  13 years ago another young quarterback named Donovan McNabb started the season 8-1 just like the Eagles record with Wentz after 9 games.  That team finished with a Super Bowl appearance but they lost the big game.  The Eagles fans were hopeful that Wentz could take the team one more step and win the Super Bowl.  This feeling left a Philly fan to be quoted as saying in a recent ESPN the Magazine article that the Philly fans were "cautiously hysterical."
As much as Wentz and his teammates were stirring up the Philly fans Wentz was also stirring up the Philly clubhouse.  His vibrant faith led to some of his teammates wanting a relationship with God that he had.  What they saw was expressed by the words of Carson himself "I'm very open about my faith," Wentz said. "I'm not going to hide from it or back down. I also like to try to walk the fine line in being too much and hitting people over the head with the Bible – that's not what I'm about.
Prior to their October 12th game against the Carolina Panthers, wide receiver Marcus Johnson requested to be baptized at the team hotel. "Seeing how they're living, how they're committed to it, I felt like it was God just pushing me, like, 'look, you can't keep making excuses anymore. You've go to make that decision. Are you going to take that next step in your faith, or are you going to continue to make excuses?"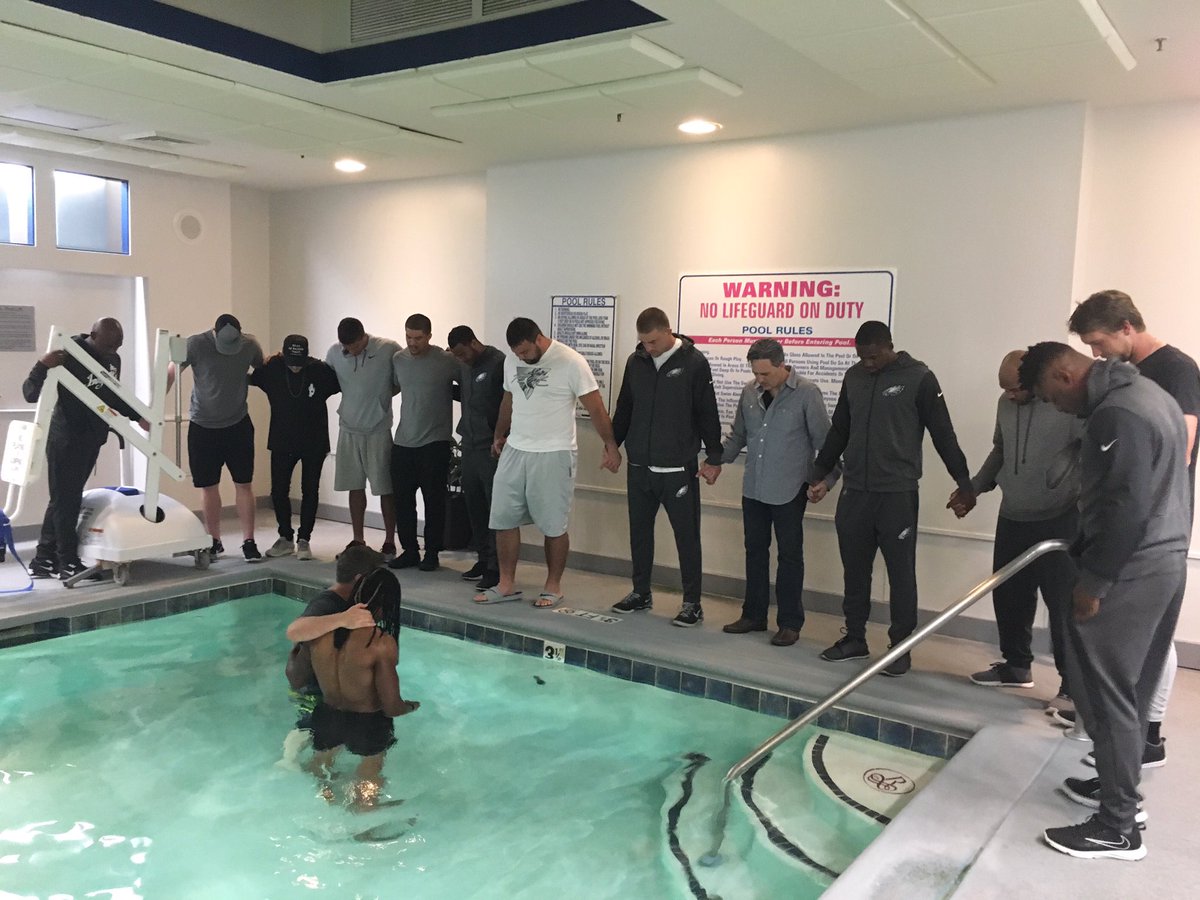 The Eagles have formed a band of brothers who have Bible Study together and pray together.  They have several members of the team in the brotherhood.  The significance  of their faith as it relates to football was best expressed by linebacker Jordan Hicks.  "When you find something or someone to play for, and you're not just playing for yourself, naturally it will make you play harder and give you a purpose," Hicks said. "We play to honor Jesus Christ. That's what we play for. It takes [the pressure] off our shoulders. Honestly, it makes us play harder in a sense, just understanding the humbling fact that it's not about us, it's about him, and glorifying his name."
It was late in a week 14 game against the Rams. Carson and his team were near the Rams end zone and Carson went back to throw.  Nobody was open so he started to run.  As he neared the goal line he got sandwiched between two Ram players.  He scored the touchdown, which was called back because of a penalty, but Carson was hurt.  He stayed in the game and threw the ensuing  touchdown pass but something was wrong with his knee.  An MRI showed that his ACL was tore and would need surgery.  His season was over and apparently the hopes and dreams of the Eagles and their fans. 
A Christian brother on the team named Nick Foles stepped into Carson's role.  He was a veteran quarterback who was disillusioned with the sport he loved only 18 months earlier and questioned whether he should stay in the game.  He decided to sign with the Eagles and back up Wentz.  Little did he know the circumstances that would come about.  Now he was depended on to lead the Eagles the rest of the way.  In a fairy tale ending the Eagles led by Foles advanced through the playoffs and into the Super Bowl  Foles was brilliant against the powerful New England Patriots and Philadelphia had won their first championship since 1960.  Their fans were hysterical and the city of Philadelphia was proud of their Eagles! 
When the game clock showed the game was over the Eagle players celebrated on the field.  The Super Bowl trophy was presented to the team in a special ceremony and smiles and high fives were everywhere.  It is a time when many winning team members of the past would go out and celebrate their victory with drinks.  That is why the unusual scene that took place in a little room was so nice to hear about.  It came from a twitter tweet from Tony Dungy (the ex NFL coach).
After all the celebrations and confetti Justin caught up with the 3 Eagles QBs Nick Foles, Carson Wentz & Nate Sudfeld along with Zach Ertz who scored the winning TD. They were in a room by themselves—praying and thanking God. It was great for him to see that.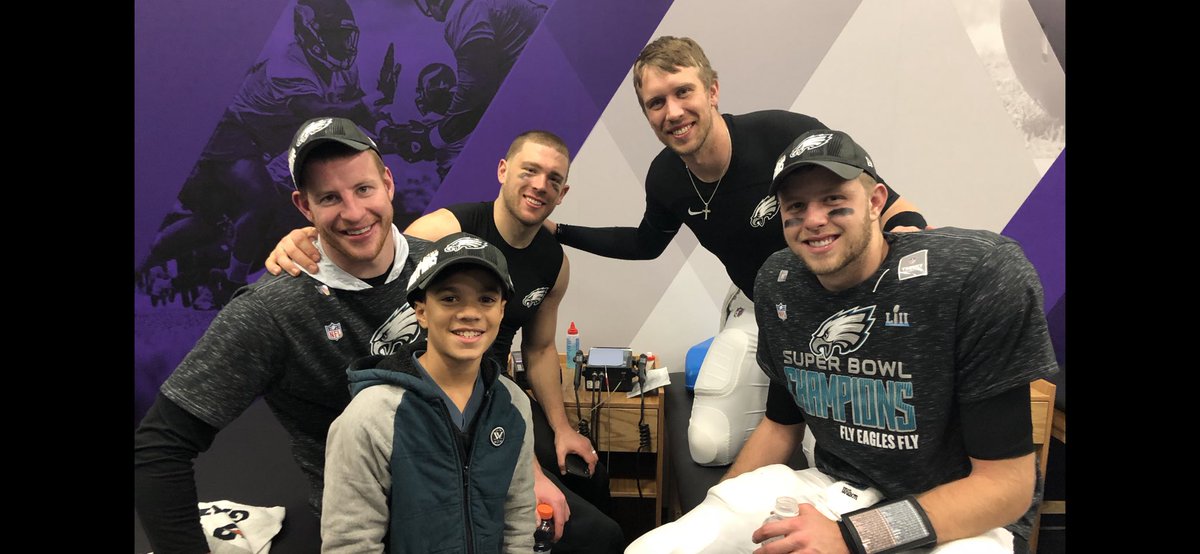 Many of the Eagle players were soaring.  Yes it was wonderful winning the Super Bowl and making thousands of Philly fans happy.  But there was a more powerful force working on the team and in the community.  Jesus had become real to an Eagle team that will be remembered for their faith long after their Super Bowl glitter fades.  When Carson Wentz found out his season was over he tweeted Proverbs 3:5-6.  The Bible verse Wentz cited reads: "Trust in the Lord with all your heart / And do not lean on your own understanding. In all your ways acknowledge Him, And He will make your paths straight."  Clearly that path is heading straight in the game of life no matter what happens in the game of football.  His audience of one is surely pleased!