I Did It For The Lord
I have a friend who had car trouble one day.  He was in the middle of a parking lot and his car battery was dead.  Luckily for him he noticed a Christian guy he knew of who was getting into his car.  My friend told him about his dilemma and asked if he would be able to jump his battery for him.  He had a set of battery cables and it would really help him out.  The Christian man had a sour look on his face.  It was like it was such an imposition to him to help my friend.  He did however agree to the process but not without more complaining.  It didn't take long before my friends car was started and running fine.  Seeing how much his problem had affected the man who helped him out he offered to pay him.  The man looked at him with that sour expression still on his face and said with a voice that seemed to pain him "no, I don't need your money, I did it for the Lord."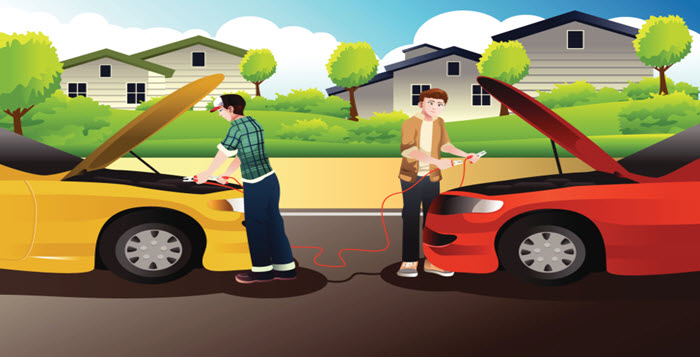 What powers the Christian walk is not a sense of obligation or need to follow rules.  It is the love that is in our hearts.  Jesus recognized the lack of love in a young rich ruler who came to get his favor.  In Matthew 19 verses 16-26 the encounter unfolds.
16 And someone came to Him and said, "Teacher, what good thing shall I do that I may obtain eternal life?" 17 And He said to him, "Why are you asking Me about what is good? There is only One who is good; but if you wish to enter into life, keep the commandments." 18 Then he *said to Him, "Which ones?" And Jesus said, "You shall not commit murder; You shall not commit adultery; You shall not steal; You shall not bear false witness; 19 Honor your father and mother; and You shall love your neighbor as yourself." 20 The young man *said to Him, "All these things I have kept; what am I still lacking?" 21 Jesus said to him, "If you wish to be [a]complete, go and sell your possessions and give to the poor, and you will have treasure in heaven; and come, follow Me." 22 But when the young man heard this statement, he went away grieving; for he was one who owned much property.
23 And Jesus said to His disciples, "Truly I say to you, it is hard for a rich man to enter the kingdom of heaven. 24 Again I say to you, it is easier for a camel to go through the eye of a needle, than for a rich man to enter the kingdom of God." 25 When the disciples heard this, they were very astonished and said, "Then who can be saved?" 26 And looking at them Jesus said to them, "With people this is impossible, but with God all things are possible."  It wasn't that the rich young ruler had not kept the commandments.  His problem was that love was not in his heart.  In his case he loved his riches more than he loved God.  He obeyed the commandments from knowledge rather than what was  really in his heart.  Jesus talks about this when he was asked what the greatest commandment is.  37 Jesus replied: "'Love the Lord your God with all your heart and with all your soul and with all your mind.'[a] 38 This is the first and greatest commandment. 39 And the second is like it: 'Love your neighbor as yourself.'[b] 40 All the Law and the Prophets hang on these two commandments."
Some of us fail to realize that it isn't obeying rules that pleases God.  It is the love of his son Jesus in our hearts that pleases him!  When we love him with all of our hearts we will automatically have the right attitude with our neighbors.  We will help them with a song in our heart not because we have to but because we want to.  We will fellowship with our church and be a light to others not because we have to but because we want to.  What we see in Christians too often is that they try to please God in actions rather than with their heart.  The rich young ruler thought that Jesus would give him his total approval and tell him what a good guy he was and that he was doing everything right.  Jesus saw the same thing in him that he saw in the Pharisees of his day.  They worshiped God with their mouth and their actions but their hearts were far from him.  The Bible talks about cleaning the inside of the glass first.  Too many times we are trying to look the part of Christians instead of having the love of Jesus in us.
Unlike the parking lot experience that my friend had, Christianity isn't about suffering to do the right thing.  It is doing the right thing out of love.  With love in our hearts it is natural to do good.  We should always listen to the spirit within us and help our neighbors out of love and not duty.  Instead of saying "I did it for the Lord", we should say "I did it because of the Lord!"  There is a saying that goes "follow your heart."  In our Christian walk it is so important!  When we allow Jesus to not only come into our heart but be our Lord and Savior, he will always give us a desire to love.