A Missionary In Africa
People have many reasons why they reject God's gift of salvation.  Many times the excuses are actually their unbelief.  It sounds so good it couldn't possibly be true.  It's like that great deal we might see for a car.  We've all seen these type of ads before.  After describing all of the benefits in this newer model and how low the mileage we see a giveaway price on it.  "That's just too good to be true", we will say and of course we are right.  I was talking to a guy one time and I described how beautiful it was within eye sight of where we were standing.  I mentioned an example of discovering a beautiful painting with nobody around.  I asked him if he discovered this beautiful painting would he assume that somebody had carefully painted it?  Or would he think that somehow the wind blew and all of the sand, water, sky, and waves depicted in the painting somehow formed on the canvas from the wind blown paint?  His statement to me was a defiant one.  He mentioned that though the view here was beautiful what about the ghetto on the other side of town?  Let's face it, some people just are not going to accept Jesus and will come up with all kinds of excuses not to.  You might be surprised the variety of excuses you will hear when you actually try to find out why someone has not accepted God's free gift.  One of the more interesting ones I heard about was from a lady who said NO!  When asked for a reason she said "I don't want to be a Missionary in Africa."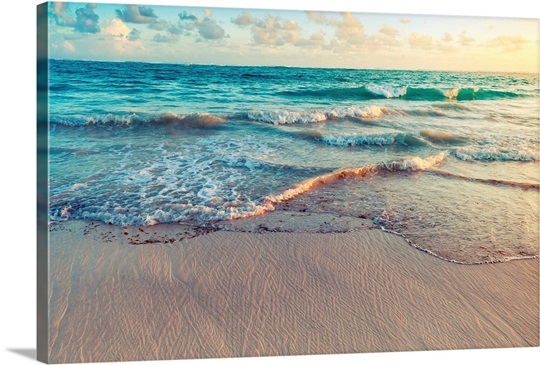 Fear of the unknown is a big reason people don't do things.  I remember when my son was 8 years old he was crazy about basketball.  I found out that some pro's and soon to be pro's were making an appearance in a town near us to celebrate a big anniversary of the Continental Basketball Association.  It was a league that gave many of them their kick start to the NBA.  They had an autograph session and we were pleased to get autographs from many of the players.  There was a future NBA player that we wanted to sign something for us pretty bad.  It was a cartoon picture we had brought that had four local NBA prospects.  The picture was funny how it characterized each individual together in one picture. We were able t secure two of the three players that were at the event to sign.  It was fun for them to autograph by the funny cartoon picture of themselves. We happened to be talking to a lady in the stands during the exhibition basketball game and found out that she was the grandmother of a third player depicted in our picture.  She promised that she would have her grandson sign our picture after the game.  When the game ended and the grandson showed up his grandmother showed him the picture and asked if he would sign it for us.  He said he wouldn't and he made the excuse that if he signed it would draw a crowd and he would have to sign for everybody.
This fear of the unknown is just an excuse.  Usually whatever fear we have never happens.  It's like when we go on a trip.  How many times do we get miles down the road and all of the sudden a fearful thought comes to our mind?  "Did I turn the burner off?" we might think.  Yet how often do we get home and find the house burnt down?  Most of the time the burner we had been so concerned about isn't even on.  The fear factor is a pretty powerful emotion and can cause us to panic.  That is why Jesus told us to not fear because he is with us!    He also told us he would always be with us! Along with the fear of the future there are many other excuses people give when asked why they won't receive God's free give of salvation.  Jesus talked about excuses people make in Luke  chapter 14 verses 16-23.
16Jesus replied: "A certain man was preparing a great banquet and invited many guests. 17At the time of the banquet he sent his servant to tell those who had been invited, 'Come, for everything is now ready.'
18"But they all alike began to make excuses. The first said, 'I have just bought a field, and I must go and see it. Please excuse me.'
19"Another said, 'I have just bought five yoke of oxen, and I'm on my way to try them out. Please excuse me.'
20"Still another said, 'I just got married, so I can't come.'
21"The servant came back and reported this to his master. Then the owner of the house became angry and ordered his servant, 'Go out quickly into the streets and alleys of the town and bring in the poor, the crippled, the blind and the lame.'
22" 'Sir,' the servant said, 'what you ordered has been done, but there is still room.'
23"Then the master told his servant, 'Go out to the roads and country lanes and compel them to come in, so that my house will be full. 24I tell you, not one of those who were invited will get a taste of my banquet.' "
Jesus spoke in parables so that people would understand the mind of God.  The banquet he talks about is in Heaven.  He is inviting all of us to come and these excuses we are making are very hurtful.  If you have not accepted Jesus into your heart yet what excuses are you making?  We need to realize that with God our future is in great hands! What future events can we control anyway?  II Corinthians 6:2 tells us that now is the time of salvation.  Instead of making excuses pray this prayer with me.
Lord Jesus,
Come into my heart and save me
Forgive me of my sins and be my Lord and Savior
Amen
If you prayed that prayer congratulations!  You have quit making excuses and are on the path to Heaven!  You are not fearing the future anymore because you know that he is always with you!  To the lady that feared becoming a Missionary in Africa I can tell her this news.  First of all God probably won't send you to Africa to be a Missionary.  There are tons of Mission fields right here in the States or right where you are currently living.  You see you can be a Missionary right where you are doing exactly the job you are doing and living in the same house you are living in now.  However, if by small chance you were sent to Africa to be a Missionary you would be so happy inside content in knowing that the God of the universe thought you worthy of such an assignment.
My Excuses
By Lewis Hamilton from the book "The Gardener and My Garden" @1997
The Lord asked me why I didn't
     go to church the way I should
I thought for a moment then it came
     If not for these reasons I would
The local church that I know
       is living such a lie
They don't fool me for a minute
     no matter how they try
The preachers there on my TV
     want money every day
That's not how I really care
     to spend my hard earned pay
On Sunday also as you know
    I need my day to sleep
 I have to work long hours
    if my job I am to keep
They put me on a guilt trip
  that's a reason I don't go
I want to feel good about myself
     I don't like to feel so low
I'm OK here just like I am
  I believe in God enough
I don't need all that preaching
   and all that shouting stuff
They want me to give up my fun
       I like my life this way
I don't go to church because
         I want to live today
When I ran through my reasons
      I knew I had that day
come up with some good excuses
     why I should stay away
But deep down inside my answers
   had no legs on which to stand,
when I saw his punctured side
     and his nail scarred hands
For they all alike began to make
excuses. The first said, "I have
just bought a field and must go
and see it. Please excuse me."
Luke 14:18