The Sin Police
I see you, you see me
Watch you blowin' the lines
When you're making a scene
Oh girl, you've got to know
What my head overlooks
The senses will show to my heart
When it's watching for lies
You can't escape my
Private eyes
They're watching you
They see your every move
Private eyes
They're watching you
Private eyes
They're watching you watching
You watching you watching you
The song was a big hit years ago by Hall and Oates called "Private Eyes."  What is the song telling us?  It is saying that whoever they are talking to is under their radar.  Everything they do or say won't be missed.  When they say something untrue or do something questionable the alarm will go off and they will be exposed.  Something that the other person did has ticked them off and now they will keep tabs on that person and not let them get away with anything.
Have you ever been driving and happen to look in your rear view mirror and see a police car right behind you?  Nobody likes this situation because we fear that any kind of little mistake and we are going to get pulled over for an infraction.  We hope that making a turn will send the police car in a different direction.  How many times does it seem like the police car is following us wherever we are going?  Maybe it is just a coincidence and maybe it isn't.  All we know is that we are suddenly on our best behavior and try our best not to make a mistake.  In short it is a very unnerving situation.  Now picture this situation happening every day.  Picture every time you get in your car and start driving a police car appears and follows you to work, to the store, or wherever else you are going?  It is not easy driving when someone is seemingly out to get you.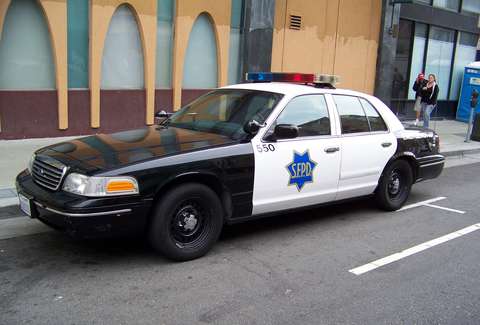 This out to get them attitude is what many are carrying with them.  Many are glad when something bad happens to someone that is under their evil eye.  Our evil eye has a tendency to drop down to our mouth too.  We can be quick to criticize the person that we feel like is getting away with so much.  So many times we make a statement about karma when something bad happens to them.  It pleases us to think that their bad deeds are getting punished.  We may even laugh as we contemplate their difficulties.  Did you know that God didn't call anyone to be the sin police?  In fact the Bible tells us not to get revenge. Do not take revenge, my dear friends, but leave room for God's wrath, for it is written: "It is mine to avenge; I will repay," says the Lord. Romans 12:19

We've all heard the story of Jonah.  Usually we are intrigued as kids by the fact that Jonah was swallowed by a big fish and he stayed in the fish for three days and three nights.  As a kid I think the big fish was described as a whale.  We tend to remember Jonah being in the whale but forget why he was there.  The story goes that there was a city named Nineveh.  Nineveh was filled with wicked people and God told Jonah to go and preach to these people that their city would be destroyed in 40 days.   Jonah however had an evil eye toward them.  They were Israel's biggest enemy and Jonah didn't want anything good happening to them.  The good would happen he feared because they would turn from their evil ways and God would have mercy on them.  Jonah had an evil eye for them and wanted nothing good to happen.  In fact he wanted their whole city destroyed.
Instead of obeying God Jonah ran in the opposite direction.  He went to Joppa and paid the fare to board a ship heading for Tarshish. God caused a tremendous storm when the ship was far out to sea.  The crew fearing for their lives threw out all of the cargo to lighten the ship.  The captain of the ship found Jonah fast asleep below the deck.  "How can you sleep? Get up and call on your god! Maybe he will take notice of us so that we will not perish. 7 Then the sailors said to each other, "Come, let us cast lots to find out who is responsible for this calamity." They cast lots and the lot fell on Jonah. 8 So they asked him, "Tell us, who is responsible for making all this trouble for us? What kind of work do you do? Where do you come from? What is your country? From what people are you?"
9 He answered, "I am a Hebrew and I worship the Lord, the God of heaven, who made the sea and the dry land."
10 This terrified them and they asked, "What have you done?" (They knew he was running away from the Lord, because he had already told them so.)
11 The sea was getting rougher and rougher. So they asked him, "What should we do to you to make the sea calm down for us?"
12 "Pick me up and throw me into the sea," he replied, "and it will become calm. I know that it is my fault that this great storm has come upon you."
13 Instead, the men did their best to row back to land. But they could not, for the sea grew even wilder than before. 14 Then they cried out to the Lord, "Please, Lord, do not let us die for taking this man's life. Do not hold us accountable for killing an innocent man, for you, Lord, have done as you pleased." 15 Then they took Jonah and threw him overboard, and the raging sea grew calm. 16 At this the men greatly feared the Lord, and they offered a sacrifice to the Lord and made vows to him.
Jonah 1 7:16
In God's mercy to Jonah he saved his life by having a big fish swallow him.  Jonah prayed to God while in the belly of the whale.  He asked for forgiveness and God forgave him.  Three days and three nights later God made the fish sick and he spat Jonah onto the shore. Once again he asked Jonah to go to Nineveh.  This time Jonah went and preached to the people that in 40 days their city would be destroyed.  He must have been a sight preaching to them after being in the whale for 3 days and nights.  It made them believe his story and they turned from their evil ways.  As Jonah had predicted God had mercy on them and changed his mind.  Because of their repentance he forgave them and did not destroy their city.  Instead of being happy about God's change of heart Jonah became angry.  It was hurtful to him that God had him preach one thing and then it didn't come to pass.
The story of Jonah is a lesson in God's compassion and mercy.  God didn't want anyone to perish.  Not the sailors on the ship, not Jonah, and not the people of Nineveh.  Today God doesn't want anyone to perish either.  Not your friends, your enemies, or anyone you may come in contact with.  When we get hurt or people let us down or we feel like that life isn't fair we should remember the story of Jonah.  Instead of an evil eye toward people that are against us God wants us to pray for them and hope for the best for them.  He has not called us to be the sin police pointing out every bad thing about them.  He has called us to act as the police in another regard, protecting them in love and forgiveness.  Always remember that God's private eyes are watching you.  He is watching out of love and desires that we show mercy and love like he showed to us.