"Don't look back, something might be gaining on you."  That saying for life was authored by Leroy "Satchel" Paige who was the greatest pitcher of the old negro baseball league.  I have wondered what that meant through the years but I think I know now after listening to a sermon recently.  An example was given about how we drive.  We look through the windshield when we drive.  We don't concentrate on the rear view mirror.  Now there are times we glance at the rear view mirror to see what is behind us, but quickly we turn our attention to what is ahead of us.
I guess the part of Paige's statement that I wondered about was "something might be gaining on you."  I think about a runner who is competing in a race.  They may see another runner out of the corner of their eye but the good runners are just concentrating on going as fast as they can straight ahead.  If that runner turns their head to pick up someone behind them they lose speed.  Not only is speed lost but they have no control over the other person anyway.
The apostle Paul states in I Corinthians 15:24  "Don't you realize that all runners run, but only one gets the prize?  Run in such a way as to get the prize." The reason I am bringing up what seems to be such a basic thing is that in the race of life many of us aren't focusing our thoughts to what is in front of us because our minds are on our rear view mirror.
Dave Thomas was born in 1932.  When he was 6 weeks old he was adopted by a loving couple named Rex and Auleva Thomas.  When Dave was 5 his mother Auleva passed away.  As a child Dave was constantly moved from one place to another as his father traveled to find work.  A lot of his early childhood was spent with his grandmother, Minnie Sinclair near Kalamazoo Michigan.  She taught him the quality of treating people with respect and the importance of service.  Some of his favorite moments of his childhood was eating out with his father.  Dave and his father didn't get to spend a lot of time together so those trips to a restaurant with him were very special.  When Dave was eight he had a dream of one day owning his own restaurant.  He studied  the restaurant business with dreams of pleasing his customers and having his employees happy with their jobs and him.
While Dave was in Knoxville Tennessee at the age of 12 he got a  job at the Regas Restaurant which was known as a fine dining establishment.   A dispute came up and Dave was fired.  It may have come to light that he wasn't the minimum age to work there.   Dave vowed never to lose another job.  At the age of 15 his father found a job in another town.  Dave was working in Fort Wayne Indiana at Hobby House Restaurant owned by the Clauss family.  Dave made the decision that he was going to stay where he was.  He quit school to work at the restaurant full time.  It was a decision that Dave said was the biggest regret of his life.  Not that he went full time in the restaurant business but that he had to quit school.
At the age of 18 at the outbreak of the Korean War Dave enlisted in the US Army to have some choice in his assignment.  Since he had food production and service experience he requested assignment to the Food and Baker's School in Fort Benning, Georgia.  After his stint there he was sent to Germany and was responsible for feeding 2,000 soldiers daily.  He rose in rank to a Staff Sergeant and in 1953 got his discharge  and headed back to Fort Wayne, Indiana and the Hobby House Restaurant.
In the mid 1950's Colonel Harlan Sanders of Kentucky Fried Chicken fame came to Fort Wayne to meet and sell franchise ownership's to qualified individuals.  At the time Dave was the Head Cook at the restaurant.  The Clauss family was not interested at first but Colonel Sanders persisted and eventually the Hobby House Restaurant became a Kentucky Fried Chicken restaurant.  Through the years the Clauss family bought a few other franchise restaurants in the mid west.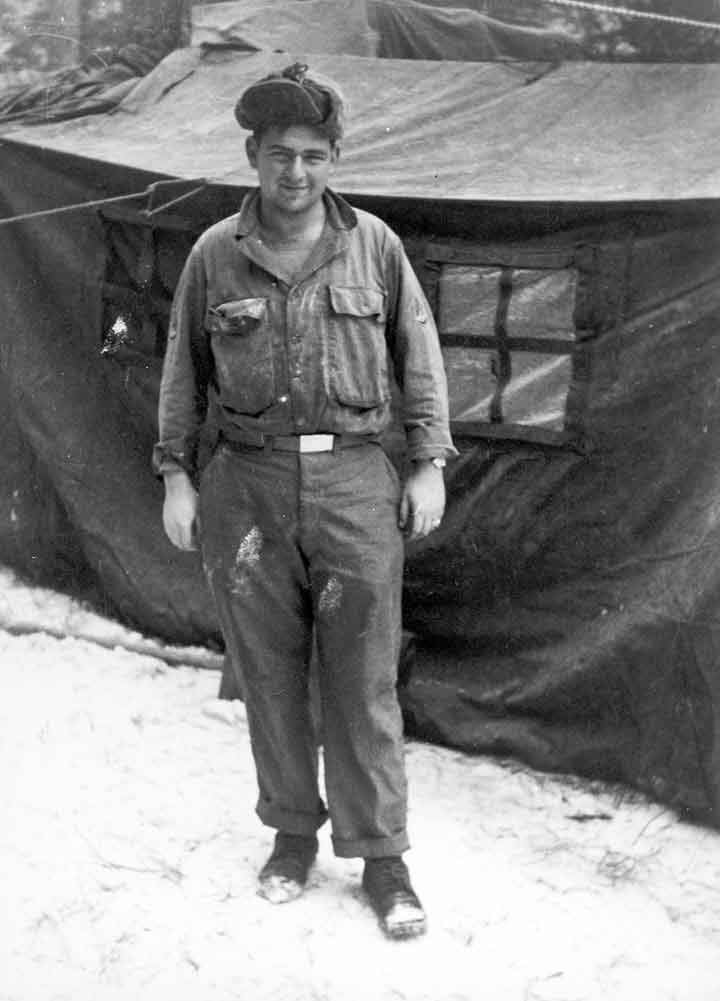 Dave worked with Sanders giving him ideas for increasing brand recognition.  He suggested that the menu be reduced to emphasize their signature chicken dish. Dave also suggested among other things that Sanders appear in commercials himself which would help people associate with his brand.  Those successful ideas did not go unrecognized.  Dave was becoming somebody that people listened to.  When four other franchise stores in Columbus, Ohio that the Clauss family owned were failing Dave was sent to straighten out the problems.  Dave was so successful in their turnarounds that he ended up selling his part of the business back to the Colonel for 1.5 million dollars!
Meanwhile Dave was married and had a growing family of 3 daughters and a son.  He still carried that dream that he had at the age of eight and in 1969 he made the dream a reality by opening his first restaurant in Columbus Ohio!  One of his daughters was eight years old at the time and her name was Melinda Lou.  According to Dave her friends called her Wenda because they had a hard time pronouncing her name.  Dave decided to modify that nickname and named his new restaurant Wendy's.
Wendy's Restaurants expanded as Dave sold his franchises around the country.  Through it all Dave remained the humble man that he had always been.  When the business went into a slump Dave was summoned back to help with the commercials.  He appeared as a folksy character that was funny and likeable.  Dave's face became recognized throughout the country but he always remained the same.  "I'm just a guy who cooks hamburgers" was what he said and believed.
Dave had many charities that were close to his heart that he supported.  One was helping the cause for adoption because it was so important in his life.  He also wanted to encourage kids to stay in school and not think that his success was based on dropping out.  Dave knew that he succeeded in spite of his lack of a formal education and not because of it.  In fact in 1993 at the age of 61, Dave was asked how he could tell people to go back to school when he was so successful as a dropout?  It inspired him to go back to school at Coconut Creek High School in Coconut Creek Florida.  "It wasn't easy but I am very proud of it", Dave stated after he earned his GED that year. He was so appreciative that he made a large donation to keep the program going!  Ironically his classmates voted him most likely to succeed.  They also voted him and his wife Prom King and Queen.  It was a full circle for Dave as he addressed a situation that he regretted for years but refused to let it stop him from reaching his dreams.  His is a story for all of us to follow.  I've found that the things that may be gaining on us are fear, doubt, and unbelief.  By keeping our eyes focused on the windshield and not concentrating on what's behind us, like Dave's story taught us, we too will find joy, peace, and purpose on the road to fulfilling God's destiny for our lives!