He was called the Dominican Dandy.  Juan Marichal came to San Francisco Giants  with a blazing fast ball an array of off speed pitches that would fill up a restaurant menu.  The beautiful part of his pitching however was his leg kick.  I can still see it in my mind as he lifted his leg over his head before delivering his pitches.  Behind that leg came the ball which made his arsenal almost impossible for the hitter to read.  The impossible became even more difficult because of his pin point control on all of his pitches.  During the 1960's he began his winning ways.  During the 1960's he won more games than any other pitcher in the major leagues.  He also struck out more batters than anyone else.  Yet for two years after his retirement Juan was not voted into baseballs hall of fame.  That omission no doubt was because of an incident that happened way back in 1965.
John Roseboro was the Los Angeles Dodgers catcher during the 1960's.  He was a man of few words and for that reason his teammates called him Gabby.  He was a tough team oriented player who his teammates loved.  He let his actions speak louder than his words.  Sandy Koufax, the great hall of fame pitcher noted that Roseboro was one of the greatest Dodgers catcher in history.  Koufax in fact credits Roseboro with much of his success.  "I never felt alone with him back there", Koufax stated.  Roseboro was only 5 foot 11 and weighed less than 200 pounds but he was the leader of those Dodger teams.  He wasn't the greatest hitter but made up for it with his all out hustle and handling of the Dodgers pitching staff.  Nobody messed around with John. Roseboro's competitive edge and all out effort to stand up for his team was in full display on that day in 1965. Roseboro was part of the Juan Marichal incident too.  He was the one the fans felt was the victim.
The Giants and the Dodgers brought their bitter rivalry from the east coast where they were the New York Giants and Brooklyn Dodgers.  In 1958 the franchises moved to San Francisco and Los Angeles.  They might have moved across the country but their intense rivalry never changed.  In 1965 there wasn't a playoff system or even divisions.  Each league was represented by the team that won the most games in their league and the rest of the teams were left to wait until next year.  The date was August 22, 1965 and both the Giants and Dodgers were competing for the pennant.  They were literally within a couple of games of each other.  To say that both teams wanted to win badly would be an understatement.
It was the last game of a four game series at Candlestick Park in San Francisco.  Both teams were pitching their aces Marichal for the Giants and Sandy Koufax for the Dodgers.  In those days brush back pitches were used.  A brush back pitch was a pitch inside on the batter that if they didn't move out of the way quickly would hit them.  The purpose of brush back pitches was to not let the hitter get too comfortable at the plate.  The first batter for the Dodgers was Maury Wills who was a skinny speedy shortstop.  Maury dragged a bunt for a base hit.  When Wills came back up in the third inning Marichal threw a high brush back pitch.  Wills flung himself out of the way by violently falling backwards to the ground.  The next batter was Ron Fairley and Marichal again threw a brush back pitch.  Down went Fairley barely getting out of the way.  When the Giants came to bat their best hitter Willie Mays was on the ground as Koufax zinged a pitch that almost hit Mays in the head and ended up hitting the wall behind the plate.  At that point with both teams on edge the umpire warned both managers that the next time a batter got knocked down would be a cause for ejection.
On the bench while his team was batting Roseboro formulated a plan.  He didn't want Koufax thrown out of the game but he did want to give Marichal a violent scare.  The next time Marichal came to bat (the pitchers batted) he would not have Koufax throw at him.  His plan was to throw the ball back to Koufax so close to Marichal's head that if it hit him it would look like an accident.  When Marichal came to bat Roseboro delinerately blocked the ball behind where Marichal was batting.  When he threw the ball back to Koufax Marichal claimed that it clipped his ear.  Marichal turned to Roseboro and wanted an explanation.  Hateful words ensued and Marichal completely lost his composure.  He took his bat and raised it and brought it down on Roseboro's head.  Both benches emptied and both sides pushed each other around for the next 14 minutes.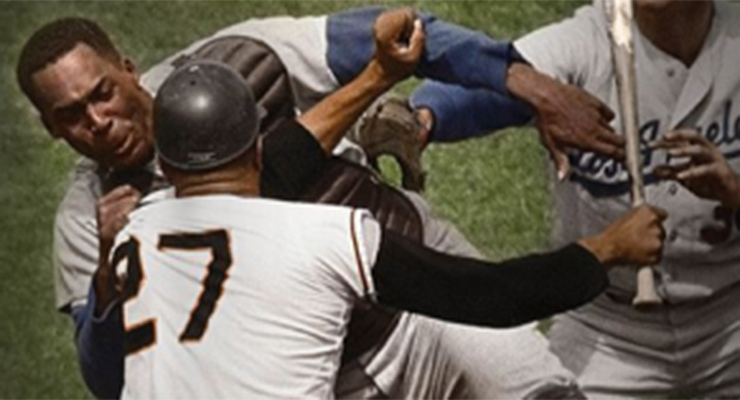 Roseboro's head was bleeding and it looked worse as the blood was running down his face.  Willie Mays who was a friend of Roseboro's reasoned with him to get some medical attention.  In the wild atmosphere he was the one with a voice of reason.  After Roseboro was off getting his wound treated the madness slowly calmed down.  Sports Illustrated had the violent scene in it's next issue of Marichal with his bat overhead.  The press made it seem like Marichal was the meanest man in the world.  Roseboro took the next couple of games to recover and then he was back in the lineup.  Marichal was fined $17,500 which was a lot back then and suspended for 10 games.
THE BATTLE OF SAN FRANCISCO
An exciting showdown series between the pennant-chasing Dodgers and Giants explodes into one of the bloodiest brawls in baseball history
Since a pitcher only pitches every three or four days Marichal missed 3 starts.  The way Marichal was pitching that could easily have been three wins.  For whatever reason when he came back from his suspension he was not the same pitcher.  He won three games and lost four the rest of the season and the Dodgers won the pennant by 2 games over the Giants.
Roseboro was furious about Marichal's allegations that  he instigated the brawl by clipping Marichal's ear.  After thinking it over Roseboro sued Marichal for $110,000 which was an enormous amount back then.  He ended up winning the suit but for a lot less namely $7,500. An immediate public apology did not soothe Roseboro's attitude.  He stated that Marichal did it through the press and not to him personally.  Then he stated that even if Marichal did come to him personally he would feel the same way.  "I wouldn't have been impressed, because apologies, in my book, don't make up for the original deed. There are too many people in this world who do terrible things intentionally and feel they can ease out of trouble with an apology."
In 1975 Marichal signed with the Dodgers.  Many of the Dodgers fans were outraged that the Dodgers would sign their worst enemy.  Roseboro who was in retirement asked the fans to give him a chance.  Marichal made an agreement with the club.  If he was healthy he felt he could help the team.  But if he wasn't he would retire.  Although his arm was feeling fine it was his back that betrayed him.  With his back hurting the way it did he could not help the Dodgers and true to his word after two starts he retired.
The years past like they always do   Marichal was up for the Hall of fame after 5 years out of baseball but he was denied.  Roseboro was outraged that a pitcher who was clearly one of the very best was ruled out because of one incident.  It was clearly a change of heart that apparently had been going on for some time within Roseboro.  In 1983 Marichal finally got enough votes to enter the Hall.  No doubt Roseboro's opinion did not hurt the vote!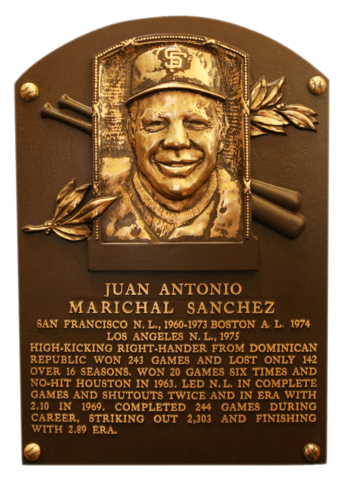 There was an Old Timers Game between the Giants and the Dodgers and both Marichal and Roseboro were invited to go.  For years they had went their separate ways but that day they talked.  As they talked they realized that deep down they truly liked each other.  The hatred had long passed from Roseboro and for the rest of his life Juan was someone he called a true friend.  Juan invited Roseboro to go to the Dominican Republic with him and Roseboro quickly accepted.  They had a wonderful time there and it only cemented their friendship further.
When John Roseboro passed away in 2002 it was very clear who his family wanted to give a eulogy, none other than Juan Marichal.  He stated words that were very powerful.  "Johnny's forgiving me was one of the best things that happened in my life," "I wish I could have had John Roseboro as my catcher."  He didn't but he did receive something much more valued, his friendship.